Welcome !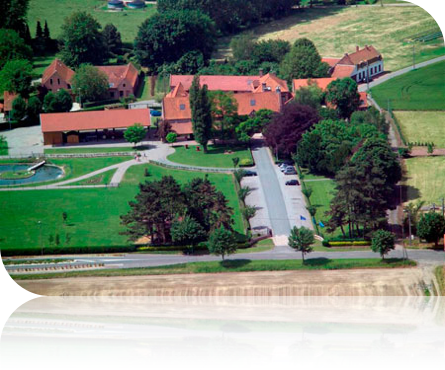 The story begins in 1991 when an industrialist Italian couple living in the Lille region come across a quadrilateral-shaped country seat : A rare regional piece of evidence of the 19th century, typical of the French Flanders.
Even dilapidated, the farmhouse is still worthy.
This old wrinkled lady has a name : Les Cigognes ("The Storks"). Behind the name, a 200 year-old love story :
A countryman has the farm build for his lover. When she leaves him and disappears, he scours the whole region and places a nest and two storks on the chimney-pot as it is believed that "The storks always fly back to their nest". The tale does not say if his lover ever came back.
For Tullia and Renato Mangili, it's love at first sight. They buy the farmhouse, several years pass, they then decide to refurbish the entire domain without really knowing how far this will lead them.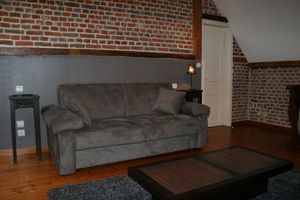 The restoration is of a comprehensive kind, the whole site made accessible by the approach roads, but the Domain's authenticity and original character are preserved: the storks from the roof are restored, the old wells are functional again, the bread oven is consolidated, the parquets are refinished, so are the beams and roof. A thorough search is conducted to find the same shape and size-titles as the original ones.
After years of gratifying hard work, the owners are satisfied with their accomplishment but feel the need to share the beauty of their dwelling. They decide to turn the farmhouse into a refined domain for high standard receptions.

To perfect their master-piece, they call on the know-how of artists and talented craftsmen. For two long weeks, these artists get inspired by the local atmosphere, the history of the domain, the regional culture and customs, and translate them into their work.
Murano glaziers fabricate sconces and chandeliers, while others draw and assemble stained glasses. Painters decorate the walls with fresco illustrating the farmhouse's history. Ceramics, furniture and equipment are carefully picked amongst the most well-known European manufacturers. The walls are repainted ten times until the original hues are revived. Each room, loft and suite is refurbished, decorated and equipped with refinement and functionality in mind.